Latest

Chicago Tribune
CHICAGO — Cardinal Francis George, the first Chicago native to serve as the local archbishop and a man who during that 17-year tenure became the intellectual leader of the American church, has died after a years long struggle with cancer. He was 78.
The death was confirmed by an archdiocese source, and a local parish sent a message regarding his death on social media.
George had been on home care since April 3 after being hospitalized late last month for hydration and pain management issues.
As head of the nation's third-largest archdiocese, he shepherded the Chicago church through school closings and the priest sexual abuse scandal, striving to reconcile his support for the clergy with the pain of victims.
He also became a point person between the U.S. and the Vatican on the abuse scandal and matters such as liturgy of the Mass, playing a key role in revisions that brought the English translation closer to the original Latin.
George in November 2014 became the first Chicago archbishop to retire, following his third cancer diagnosis, and was replaced by current Archbishop Blase Cupich.
"He stood apart for his intelligence, his ability to make the church's proposal in a compelling way to contemporary society, his deep faith, personal holiness and courage," said Catholic scholar and papal biographer George Weigel.
"I think he would want to be remembered as a good and faithful priest," Weigel said. "That's all he ever wanted to be."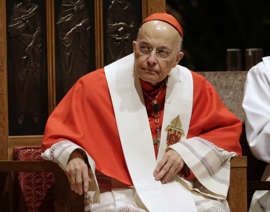 © AP Photo/Charles Rex Arbogast, File In this Nov. 17, 2014 file photo, retiring Cardinal Francis George listens at Holy Name Cathedral in Chicago during Bishop Blase Cupich's Rite of Reception service.
George received his first cancer diagnosis in 2006 and had surgery to remove his bladder and prostate. He was diagnosed with cancer again about six years later and underwent more surgery.
His most recent diagnosis came in March 2014, when doctors found new cancer cells in his right kidney. He underwent chemotherapy, but the archdiocese announced in late 2014 that he had stopped taking an experimental drug because it had not been effective.
From his childhood on the Northwest Side of Chicago, George embarked on a spiritual career that took him around the globe as a missionary, then brought him back home in 1997 when he was appointed as the eighth archbishop of the Chicago Archdiocese and spiritual leader of its more than 2 million Catholics.
Born Jan. 16, 1937, George went to St. Pascal School in the Portage Park neighborhood, where he knew early on that he wanted to serve the church.
"The first time I thought about being a priest was my first Holy Communion, when I really came to appreciate the nature of that sacrament as much as a 7-year-old could," he said in a church documentary in December 2013 commemorating his 50th anniversary as a priest.
George was 13, not even out of grammar school, when polio struck. When he arrived at Quigley Preparatory Seminary in Chicago on crutches, eager to begin his freshman year, George was told he could not stay and likely never would be ordained. His family enrolled him instead in the now-closed St. Henry Preparatory Seminary, a boarding school in Belleville, Ill., just outside St. Louis. The school was run by the Missionary Oblates of Mary Immaculate religious order, whose mission is to evangelize the poor and to which he would devote his life.
In 1973 he moved to St. Paul, Minn., to serve as head of the Oblates' Midwestern province, which covers nine states. After just 18 months, at age 37, he was named the worldwide religious order's vicar general, its second in command, and moved to Rome.
As vicar general from 1974 to 1986, George traveled widely, visiting many of the 68 countries where the order's 5,000 members perform their missionary work.
George moved back to the U.S. in 1987 to become the coordinator of the Circle of Fellows at the Cambridge Center for the Study of Faith and Culture in Massachusetts. In 1990 he was installed as bishop of rural Yakima, Wash. Six years later he was promoted to lead the Archdiocese of Portland. He was there only 10 months when Pope John Paul II tapped him to replace the late Cardinal Joseph Bernardin as Chicago's archbishop.
In 2002, at the height of the Catholic Church's sexual abuse scandal, George emerged as a leading figure in negotiations with the Vatican over a zero-tolerance policy. The American bishops' position was that any priest guilty of a single offense of sexual abuse of a minor should be removed from ministry.
As his profile in the Catholic Church rose, the cardinal became more outspoken in articulating the church's stand on national issues, insisting, for example, that Catholic institutions should be exempt from the contraception mandate in President Barack Obama's health care plan.
After the death of Pope John Paul II in 2005, George joined six other American cardinals in Rome for the pontiff's funeral and the conclave that would select Pope Benedict XVI. Eight years later he voted in another conclave that elected Pope Francis.
The new pope's popularity surprised George, who worried that people were developing unrealistic expectations that could lead to further disillusionment with the church.
"He sends out so many signals it gets a bit jumbled at times," George said. "I'm sure he's not confused, himself. It's confusing for a lot of people, including myself at times. For someone who appreciates clarity, I would like to get a few things clear so I can cooperate."
The Outreach Committee has designated the fourth Sunday (weekend) of every month as
Food Drive Sunday!
The shelves of the Catholic Charities Food Pantry at St. Irenaeus Church, which we collectively sponsor, is full of food at the holidays—due to the generosity of our parishioners and the parishioners of our sister churches. However, once the holidays are over, the poor and the needy again go unnoticed. We would like to insure that the wonderful people of St. Kieran Church will have a part in making food available to those in need all year round. Each month, before the last full weekend of the month, a list of needed supplies will be printed in the bulletin and available by the food bin. Our St. Kieran shopping bags will also be available in the food bin for our parishioners to take home and fill, if they have the means. If you can't fill a bag, please consider bringing a few cans or boxes of food stuffs for the collection. Make sure your donation is here, in the food bin, by the last weekend of the month.
Our first Food Drive Sunday will be the weekend of April 25-26, 2015. Please take a shopping bag home to remind you that the Food Drive will take place. We thank you in advance for your continued generosity in reaching out to those who need it most. God bless you all for your efforts on behalf of God's People!
Abstinence from meat is to be observed by all Catholics 14 years old and older on Ash Wednesday and on all the Fridays of Lent.
Fasting is to be observed on Ash Wednesday by all Catholics who are 18 years of age but not yet 59. Those who are bound by this may take only one full meal. Two smaller meals are permitted if necessary to maintain strength according to one's needs, but eating solid foods between meals is not permitted.
The special Paschal fast, as well as abstinence, are prescribed for Good Friday and encouraged for Holy Saturday.
Easter Sunday is April 5th,2015
We just added a computer room to the library, come see for your self.
You can browse the web, check your email type a letter, resume or recipe.
come on by